I run a small shop called "Pawnshop for Dreams," and let me tell you, it's not an easy job. People come here to sell their dreams for money, and sometimes listening to their stories can be heart-wrenching.
But I've also seen the other side of the coin. Some people come here to buy other people's dreams. They're usually wealthy individuals who have everything but still feel empty inside. They think buying someone else's dream will fill that void.
It's a cynical business, but it's how I make a living. Besides, who am I to judge people's actions?
One day, a man in an expensive suit and a luxury car walked into my shop. He wore a smug smile, as if he were superior to everyone else in the store.
"I want to buy someone's dream," he said to me, flashing a wad of cash.
I raised an eyebrow, not sure what kind of dream this man was looking for. Was he seeking fame, wealth, or something more personal?
He didn't specify, but he seemed like the kind of person who wanted it all.
I told him I had some dreams for sale, and he skimmed through them, eyeing most with disdain. He believed most of them were trivial or unrealistic, but suddenly, he found one that caught his eye.
It was a dream written by a teenager about love and happiness, just after going through a painful breakup. The man smiled, thinking he had found the perfect dream to buy.
He handed me the cash and left the store, feeling pleased and satisfied with his purchase.
But he didn't know dreams aren't like tangible goods. Dreams aren't something you can hold in your hands.
The teenager who sold the dream of love and happiness lost everything. He thought selling his dream would help him move on from the breakup, but it only left him feeling emptier and lonelier.
And as for the man who bought her dream? He later realized that money couldn't buy true happiness, leaving him with a void that no material wealth could fill.
As for me, I continue to run "Pawnshop for Dreams," knowing that this business is built on other people's hopes and desires. But every time I see a customer leave the store, I can't help but wonder if they made the right choice.
I was inspired by the real-life experience of passing by a pawnshop in Cambridge. It struck me that the items being sold in the pawnshop carried a deeper meaning than just their physical value. Many of these items were earned through hard work and hope, representing the lives and dreams of the people who had to part with them out of necessity. This got me thinking, what if we could trade our hopes and dreams directly without the need for physical products as intermediaries? With the help from ChatGPT (13 Feb 2023 version), the initial version painted a romanticized picture of someone selling their dreams only to buy them back later in life. However, upon reflection, I felt that this version lacked the depth and complexity that the topic deserved. Instead, I have chosen to explore the emotional toll that such a transaction might take on the individuals involved and found this version more thought-provoking.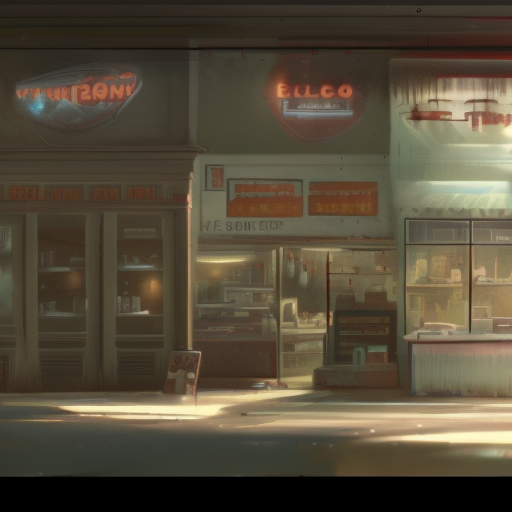 我经营着一个名为"梦想当铺"的小店,这可不是一份容易的工作。人们会来这里卖掉自己的梦想换取钱,有时候,听他们倾诉的故事会让我感到很心痛。
但我也见过另一面。有些人来这里买别人的梦想。他们通常是富有的人,他们拥有一切却还感到内心空虚。他们认为买到别人的梦想会填补这种空虚感。
这是一个很愤世嫉俗的生意,但它能够让我谋生。何况,我又有什么资格去评判别人的行为呢?
有一天,一个穿着一身精致西装开着一辆豪华汽车的男人走进了我的店。他面带傲慢的微笑,仿佛自己比店里的其他人都优越。
"我想买一个人的梦想,"他对我说道,同时在我面前晃动着一沓钞票。
我挑了挑眉,不知道这个男人想要什么样的梦想。他是在寻求名望、财富,还是别的什么更私人的东西?
他没有具体说明,但他似乎是那种想要得到一切的人。
我告诉他我有一些梦想出售,他一一过目,并用挑剔的眼神打发了大多数。他认为其中大多数都是琐碎或不切实际的,但是突然间他看中了一个。
那是一个年轻人写下的关于爱和幸福的梦想,他刚刚经历了一次痛苦的分手。那个男人微笑着,认为他找到了完美的梦想来购买。
他交给我现金,离开了商店,对自己的购买感到得意和满足。
但他不知道,梦想不像商品一样可以买卖。梦想不是你可以拿在手中的有形物品。
那个卖出爱和幸福梦想的年轻人却失去了一切。他认为出售梦想会帮助他从分手中走出来,但结果只让她感到更加空虚和孤独。
而那个购买梦想的男人呢?他后来意识到金钱无法买到真正的幸福,留下了一种无法用任何物质财富填补的空虚感。
至于我,我继续经营"梦想典当行",知道这个生意建立在别人的希望和愿望之上。但每次看到一个客人离开商店,我都不禁想知道他们是否做出了正确的选择。